Our goal was to communicate the entire experience of seeing an LCT3 production at the Claire Tow Theater. The glass surround of the theater lobby, the adjacent roof deck with sweeping views of the Lincoln Center plaza, mood lighting, a full bar with food service which can be enjoyed before and after the performance, and the sheer intimacy of watching a performance up close and in the company of only 111 other theatergoers.
LCT3 produces new shows by new playwrights, directors and designers with the intention of attracting and performing for a new audience.
To begin, we observed a few cues from the current LCT3 site: 
- generous use of black and dark greys with bright yellow highlights
- background transparency of theatre's unique architecture 
- the LCT3 logo rotated on its axis
- juxtaposition of universal transit sans-serif wayfaring signage with elegant italicized serif typefaces
We built a modular grid of dynamic content that conveys an energetic and youthful mood, inviting the audience to experience theatre in a wholly unique and original way. With the following visual language, we clearly distinguish LCT3 as the home for new artists & new audiences.
visual language: line, curtain & spotlight
In theater, the line has many functions.
- it is a boundary. the end of a stage and the beginning of the audience.
- a cue. dialogue.
- an actor's body connecting or disconnecting with the audience.
- where one opens, another closes.
- a narrative sequence.
Sets, actors, stories—all imagination rests behind the curtain. It opens or closes when called.
provides a window to imagination.

- a visual transition from one scene to another.
- a way to hide or reveal the many different and dynamic parts of a story.
Without light, there can be only words. Light is what brings a show to life.

- focuses the audience.
- illuminates intention & emphasis.
Our work brings these concepts into visual elements. You will see threads of line work, dramatic angles and yellow blocks of transparencies. These provide the context, the framework and emphasis to navigate our guest's journey through this theatrical experience.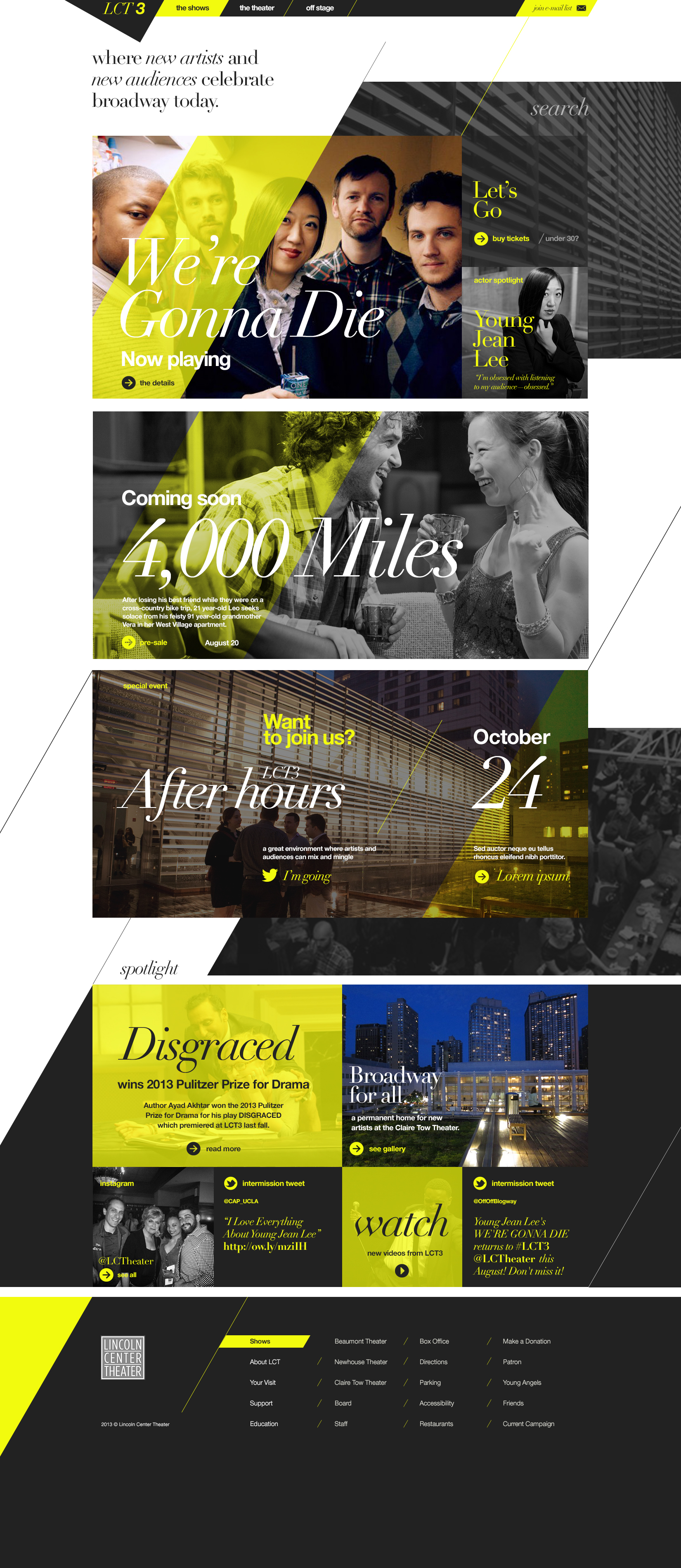 visual language: color and tone
- high contrast dark & light to represent the dramatic contrast in theatrical performance—we've generous shades of dark grey and yellow.
- images throughout Production pages fade into black and white as well as yellow monotone to keep emphasis on essential shape, form and typography as needed.
- spotlight beams of yellow to form energetic bursts of emphasis or curtains to conceal and tease content a guest will want to explore and reveal.
visual language: typography
- juxtaposition of universal transit sans-serif wayfaring signage with elegant italicized serif typefaces—the right balance of contemporary youth and classic sensibility
- high contrast in the scale of type feels refreshing and emphatic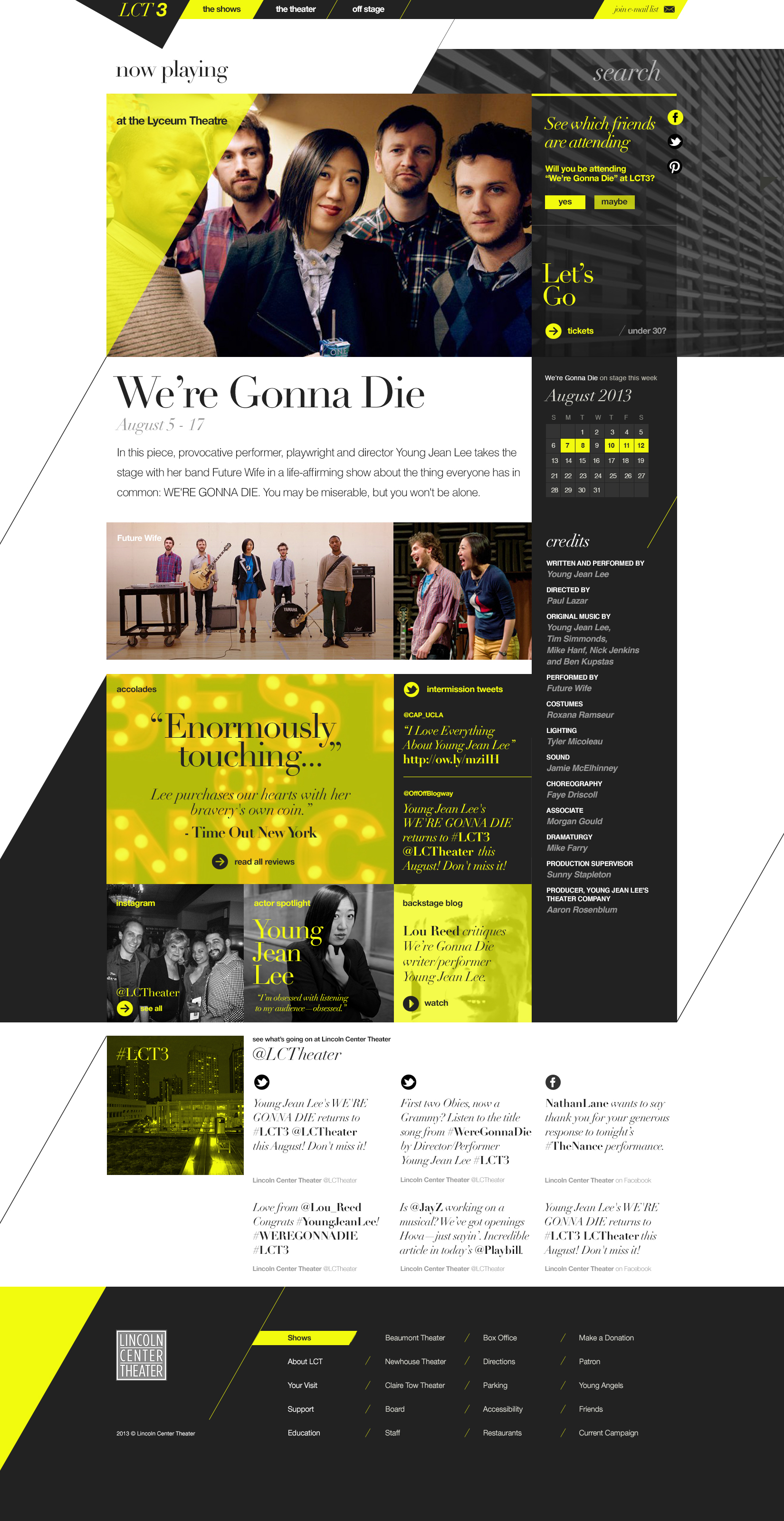 bold & sophisticated harmony
Bold images, color choices and elegant typography work harder to reach a more sophisticated audience. As with LCT, large image templates should be populated with high quality, professional performance images as they speak volumes as to the quality of the LTC product on stage, while smaller image templates could house architectural references to the theaters physical spaces as well as contain user generated photos from social sites like Instagram and Facebook.

Interactions will feel natural and beautiful in their simplicity. Spotlights will illuminate or extinguish as guests hover and reveal content behind the curtains.